Integrify offers increased flexibility for process and workflow management, including an Integrify Widget Architecture.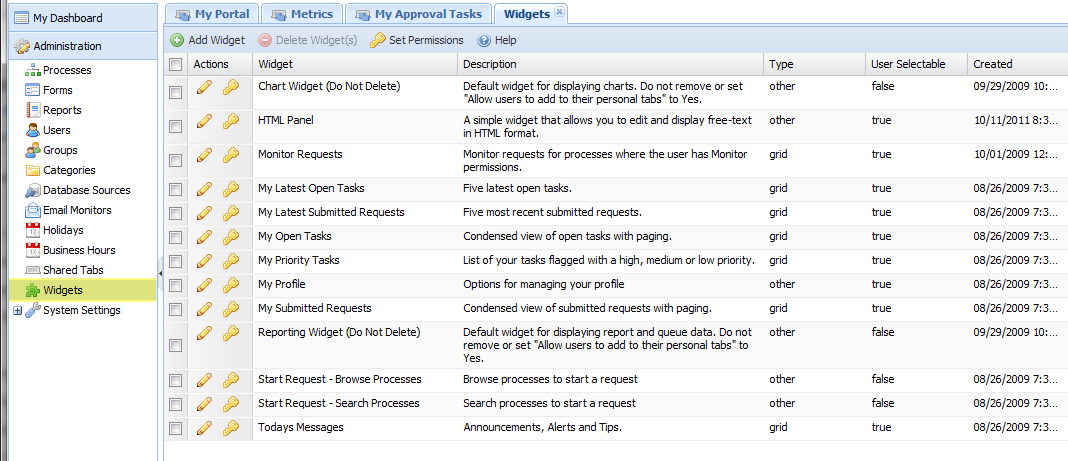 An Integrify widget enables you to provide information to the user or a have them complete a task. Examples include:
• Embed "My Assigned Tasks" on a portal.
• Put a Report widget on a portal.
• A potential client fills out a "Contact Me" form on an internet web site.
Available Integrify Widgets include:
• My Latest Open Tasks (all or latest 5)
• My Latest Submitted Requests (all or latest 5)
• My Priority Tasks (Tasks flagged with a high, medium or low priority)
• My Profile (Options for managing your profile)
• Start a Request (Browse by Categories or by Search)
• Monitor Requests (Browse by Categories)
• HTML Panel (free-form HTML)
• Today's Messages (Announcements, Alerts and Tips defined by the administrator)
Note: Additional custom widgets that are needed can be created by Integrify's Services Group upon request.
Last Updated on Tuesday, 27 August 2013 23:45